Web Design
Having been made redundant from my job as an Architectural Technician it gave my time to either, learn new software programmes, or advance my knowledge of those already known to me. Web design was something that I became interested in when I changed my Internet Service Provider to Madasafish. This section of my website is intended to highlight this interest and hopefully show my capabilities in web design.
My first website was designed using Microsoft FrontPage. This site was adequate for my needs at the time and gave me the opportunity to learn something new. Having enquired about the possibility of providing a Community Website I was advised to look at Adobe Dreamweaver. Since redesigning my website purely by self tuition I have also completed, and successfully passed, City & Guilds, Level 2, Intermediate Web Design Using Dreamweaver and Level 3, Advanced Web Design Using Dreamweaver. At some point I hope to take a step further and do a course involving more in-depth web design such as using Flash.
As my knowledge of this medium has improved I have looked at designing a number of websites for local community organisations and friends. In an effort to progress and hopefully be in a position where I am working for myself I have set up a company website, www.meerkad.co.uk, in an attempt to trade as MeerKAD Design.
Examples
(Click screenshot to view)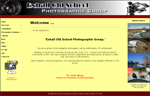 Exhall Old School Photographic Group